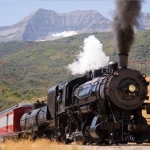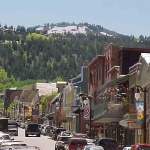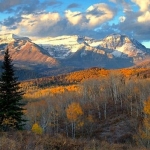 Why Go:
This day trip will give you a real flavor of the Wasatch Range that affronts
Salt Lake City
. Visit an old silver mining town, Park City, which had gone bust and then boom. Circle around the mountains and travel through Heber Valley, which is truly a "Four Season" destination beautifully situated between the towering Wasatch and Uinta mountain ranges amidst gorgeous lakes, and blue-ribbon trout streams. Finally, return via the Alpine Loop Scenic Byway, where you will find stupendous view of Mt.
Timpanogos, Timpanogos Cave National Monument
and Robert Redford's
Sundance
Resort. This day trip is beautiful in all four seasons but best in summer and fall. The Alpine Loop portion of this trip may be closed in the winter. In the fall, this is one of Utah's finest fall colors drives.
What you will do:
To get the most from this day trip, start early. We have a lot of great options for you to fill day. The journey begins with a visit to
Park City
. This town still holds the charm of an old mining town gone bust. Many of the building from the early mining days are sill along Main Street. Today, the city is a bustling tourist center featuring winter sports and summer vacations. But there is something to do in all four seasons in Park City.
Along Main Street, you will find shops, galleries, restaurants, bars and coffee shops. Stroll Main Street before swinging down to the
Park City Ski Resort
area, which has more shops, restaurants and bars.
Deer Valley,
another ski resort close at hand, is the luxury resort of Park City. It is worth a visit up to the Deer Valley Silver Lake Village area. A walk around the village will give you a feel for the exclusive resort Deer Valley has become.
After grabbing a bite to eat for lunch after your tour of the Park City area, it is time to move on. There are many beautiful sights along the way. Drive south to
Heber
, another mountain town on the back side of the Wasatch. The first thing that should occur to you is that there is a beautiful mountain range off to your right, and one particularly beautiful peak. This is
Mt. Timpanogos
. This is one of the true
Wasatch Mountain
jewels. There are many views of this mountain along the ride to come.
One of the popular attractions in the Heber area is the
Heber Valley Railroad
.  After completing this special excursion on an early 1900's locomotive, take a stroll through this attractive Utah mountain town.
Make sure you budget time to fully enjoy the
Alpine Loop Scenic Byway
. This drive is one of Utah's finest and you want to savor every minute. Head south from Heber on US 189. You will reach the junction of US 189 and UT-92 in about 15 miles. About five miles further, on US 189 is Utah's version of
Bridal Veil Falls
, a 600 foot water fall. It is worth the extra time to make this diversion from our main trek down UT-92 if you can.
Head back to the junction of US 189 and UT-92 where the Alpine Loop Scenic Byway begins.  Go left (west) on UT-92 towards
American Fork
. The first notable stop is
Robert Redford
's
Sundance Resort
. While Sundance is a ski resort, there is plenty to do and see in all four seasons. On this visit you might choose to have tea, coffee or a pick-me-up snack (too early for diner and you have more Byway to explore), go on a short hike, ride the chair lifts or just rest a spell.
If you are doing OK on time, the next diversion, after winding your way on UT-92, is
Cascade Springs
. You will take a seven-mile side trip down State Route114, Cascade Scenic Drive, to the springs. There is a quarter-mile long boardwalk there which traverses over the springs area, exposing pools and cascades. This is an animal delight so heads up.
Another nine miles down the beautiful but windy UT-92 is
Timpanogos Cave National Monument
. Visit the information center and consider taking one of the hikes into the caves rich with stalagmites and stalactites.
Travel portion:
This day trip calls for a quick Interstate Highway trip from Salt Lake City to Park City. When you leave Park City, heading to Heber, there is a four lane highway with a meridian (US 40) until about three miles out of town. From there, you still have four lanes but without the meridian. You have a four lane highway all the way to UT-92. The Alpine Loop Scenic Byway is mostly a two lane, narrow mountain road. If can be closed during winter. As you get closer to American Fork and civilization, the road widens a bit. Once you get out of the canyon, you stay on UT-92 all the way to I-15. From here you are only 25 miles back to your hotel.
Specific Directions:
From your hotel, head to 500 South and travel west. You will merge onto I-15 South, I-80 East towards Cheyenne/Las Vegas. Stay on I-80 East towards Cheyenne where I-15 and I-80 split. Travel through the Parley's Canyon on I-80 East, about 20 miles, all the way to Kimball Junction. Take Exit 145 right to Olympic Parkway, UT-224 South. Travel about 6 miles and you are in the middle of Park City UT.
Leaving Park City, make your way back to Kearns Blvd, UT-248 East to US 40/US 189 (about 3 miles). Head South or turn Right on US 40/US 189 towards Heber, which is about 13.5 miles away.
From Heber, continue out of town on Main Street which is US 189/US 40. These roads will split at the edge of town, at 1200 South. We are going on US 189 or right at the intersection. Heading southwest out of town, you will be on US 189 for about 17.5 miles to Bridal Veil Falls. Make a note at 14.5 miles as you pass the junction of UT-92. You will be heading right back up this way for the Alpine Loop Scenic Byway.
After visit at Bridal Veil Falls, head northeast back up US 189 to UT-92 junction. Take a left on UT-92, Alpine Loop Scenic Byway. You will travel on UT-92 all the way back to I-15. Note: From the UT-92 start, Sundance will be about miles 2.5 miles ahead. The diversion to Cascade Springs is 8.3 miles before you turn on Cascade Scenic Dr. Timpanogos Cave is about 17.5 miles down UT-92.
Once you reach I-15, you head north to Salt Lake City. Go 23 miles or so up to exit 306 or W 600 South. That will take you into town.
Food options:
Eat breakfast in Salt Lake City. Plan on having lunch at one of our suggested sites in Park City. Consider
Bistro 412
,
Windy Ridge Café
or
El Chubasco
. You might want to snack at the
Sundance Resort
but it will probably be too early for dinner and you would miss much of the Alpine Loop Scenic Byway if you stay there for dinner. We recommend having dinner in back in Salt Lake City.