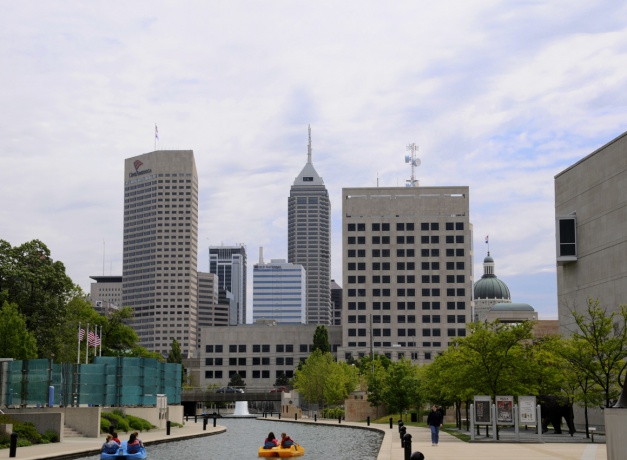 Indianapolis is in the heart of the Midwest, capital of the Hoosier state. (Hoosiers are ...., well there is no good explanation of a Hoosier. It is just the people of Indiana). We are always impressed with the energy of this mid-sized city.
Indianapolis is very active in the sporting arena. While home to the Indianapolis 500 and the Brickyard 400 car races, there are always an array of other sporting events coming to town. The Indianapolis Colts and Indiana Pacers are featured professional sports franchise, but the NCAA Basketball playoffs frequent Indianapolis. In addition, NFL football combines are held here and it is common for the major sports to have their off season meetings here. Further, the NCAA Hall of Fame Museum and NCAA Headquarters are in town. It is definitely a sports town.
Agriculture is also "front and center" in Indy. Do not be surprised to see many commercials on TV for grain, feed and stock products. From July to early September, fresh corn, tomatoes, green beans and the like are in abundance here. It is truly a culinary dream come true. So here is the paradox: with all these great fruits and vegetables, Indy is still steak and potatoes country. There are an abundance of steakhouses in town.
People here work hard and play hard. But they are a friendly lot and they welcome you to their town.